7 Interesting Facts About Our Favorite Food – Peanut Butter
It is delicious, healthy, and one of America's favorite foods.  We eat it with chocolate, sandwiches, vegetables, fruit, and by itself.  Peanut butter is, without a doubt, one of the purely American foods.  So, let's celebrate the magnificently creamy substance with some facts.
That's a lot of sandwiches
A peanut farmer can grow enough peanuts in one acre to make over 30,000 peanut butter sandwiches.  A ten acre peanut crop can yield enough peanuts to feed a small town for a year (if they only make sandwiches).
That's a lot of nuts
Each 24-ounce jar of peanut butter contains roughly 1,080 peanuts.  Since each jar is about 22 servings, that means a serving contains roughly 50 peanuts and roughly 7-8 grams of protein per serving.
What a useful food
Peanut butter has plenty of uses aside from food.  Rubbing peanut butter on a cloth can remove a price sticker from books and DVD cases.  People also use peanut butter as a leather cleaner, chewing gum remover, and shaving cream.
Distinct smell
In a study, researchers found that the most distinct smell to human noses is coffee.  A close second to coffee, though, is peanut butter.  In fact, the smell is so distinct that it can cover up plenty of other smells. After cooking fish, fish a teaspoon of peanut butter in the pan to remove the smell of fish from your house.
Guess it is not American
The earliest patent for peanut butter was held by Marcellus Edson of Montreal, Canada in 1884.  The first known use of peanut butter was actually by that Aztecs.  The Aztecs made peanut paste by mashing cooked peanuts and using it as a food spread.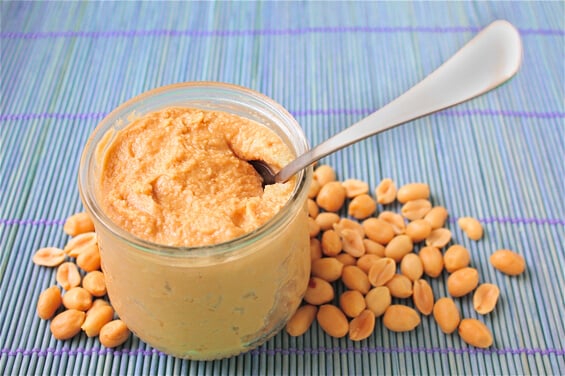 Unappetizing to many

While peanut butter is not technically a "butter," the name is closer than other translated languages. The US is one of the few countries that view peanut butter as food.  Many cultures are disgusted by our consumption of peanut butter, but it is the Netherlands that gave it a rather unappetizing name, peanut cheese.
JIF is really big
The Lexington, Kentucky JIF plant produces 190 millions pounds of peanut butter a year.  Since the majority of peanut butter is consumed by Americans, than each Rhode Islander can eat 10 yards of peanut butter a year.